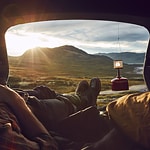 If you've been itching to get away from Avon, IN but can't afford a lavish vacation, don't worry. Here at Champion Chevrolet, we've got you covered with some of the best ways to take a road trip on a budget. You don't have to go far from home and spend a lot of money to have a good time.
You will want to make sure to get your vehicle checked out before you hit the road. A quick inspection and taking care of lingering maintenance tasks could save you a bundle, plus the hassle of a breakdown. Next, prioritize your trip. Decide where you want to go, how much you want to spend, and where you want to put the bulk of your budget.
Try to eat out less by packing your own snacks and choosing accommodations that allow cooking. Camping or vacation rentals can save you tons. Look for free and low-cost activities. Credit card rewards can help here.