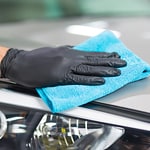 At Champion Chevrolet in Avon, IN, we are always interested in helping our community solve vehicle issues such as cleanliness. If you are interested in learning how to clean your vehicle as fast as possible, here are a few tips.
When you enter the vehicle, gather everything that shouldn't be in it and take it out. Organize these items and things that you want to keep and then throw everything else away. Take a damp rag and wipe off all of the surfaces as fast as you can. Then shake out your car mats and use a mini vacuum or a house vacuum to go over the really dirty areas.
The exterior is easily washed with a hose and a large bath towel. While this will not get your car as clean as you may want it, it is an easy way to make it look a lot nicer quickly.