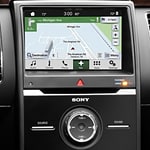 The infotainment system in a vehicle has many desired features that most people look for when purchasing a vehicle at Champion Chevrolet in Avon, IN. Therefore, if you were interested in the infotainment system with everything you want, stop by our dealership to check out different vehicles.
An infotainment system can have standard options with a touch screen display in the vehicle's dashboard. The standard options can be information about the car, such as tire pressure or when to service the vehicle. In addition, you'll find the ability to control your stereo, Bluetooth, and navigation all from the infotainment display.
Infotainment systems also include apps such as Android Auto and Apple CarPlay. In addition, there are usually other apps that come with the manufacturer and can help do things such as make reservations at restaurants. There may also be other high-end features such as the controls for ambient lighting or performance profiles for the vehicle.